Special offer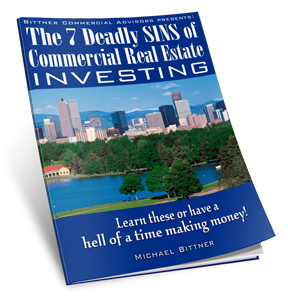 Learn Commercial Real Estate Investing from a Pro
The 7 Deadly Sins of Commercial Real Estate Investing can save you time and money! Click here to get your free copy today!
Bittner Commercial Advisors
High achievement always takes place in the
framework of high ethics...
Why is BCA offering you this opportunity?
We work with an elite group of Colorado Commercial Real Estate Investors. We have openings for a few new clients in the next six months.
Because of the surge in activity in the Colorado Commercial Real Estate market in Boulder and Denver, we have increased our capabilities to offer our services to up to four new investors this year. To find out if you might be a good candidate for working with BCA, please contact us at 303-442-6565.